08-15-2019, 02:57 PM
Site Sponsor

Join Date: Oct 2008

Location: Belmar, NJ

Posts: 3,458
Miss Belmar - SUPER SUPER FISHING TODAY!
---
MISS BELMAR PRINCESS

Yesterday afternoon, we picked away at sea bass. Even though we read them well, it was a little on the slow side. There was also ling in the mix. Our pool winner was Nick Schmidt.

This morning, we fished north of Shark River Inlet with excellent results. We immediately started with the mackerel, bonito and blues. It slowed down towards the end of the day so we made a move on a report and we had excellent bonito fishing catching them as fast as you could pull them up! The bonito bit on jigs and bait with fish schooled up next to the boat. It was just a super, super day of angling today!

ROYAL MISS BELMAR

This morning, we fished east of Shark River Inlet and we caught sea bass, a handful of fluke and some ling. As fast as you put your line to the bottom you had fish on. Those who had 2 hooks on caught double headers. If anyone would have had 3 hooks on they would have caught a triple header. Fishing was just that good today! We had 5 drifts and every one of them was excellent fishing. Our pool winner was Dan Patterson from Slatington, PA.

With all of this heat and humidity, both the Miss Belmar Princess and the Royal Miss Belmar have fully air conditioned cabins if you want to stay cool in this summer heat!

The Miss Belmar Princess is sailing daily for blues, bonito and mackerel from 7:30 a.m. – 2:30 p.m. and every afternoon from 4:30 p.m. – 8:30 p.m. for fluke, sea bass and ling. The Royal Miss Belmar is sailing daily from 7:30 a.m. – 12:00 p.m. for fluke, sea bass and ling.

The Miss Belmar Princess is the largest, fastest and cleanest fishing boat in Belmar. With Miss Belmar's 3 engines and a total of 2,100 horsepower, she is the first boat to the fishing grounds every day and we guarantee it. No other boat comes close. Try us and you'll see why.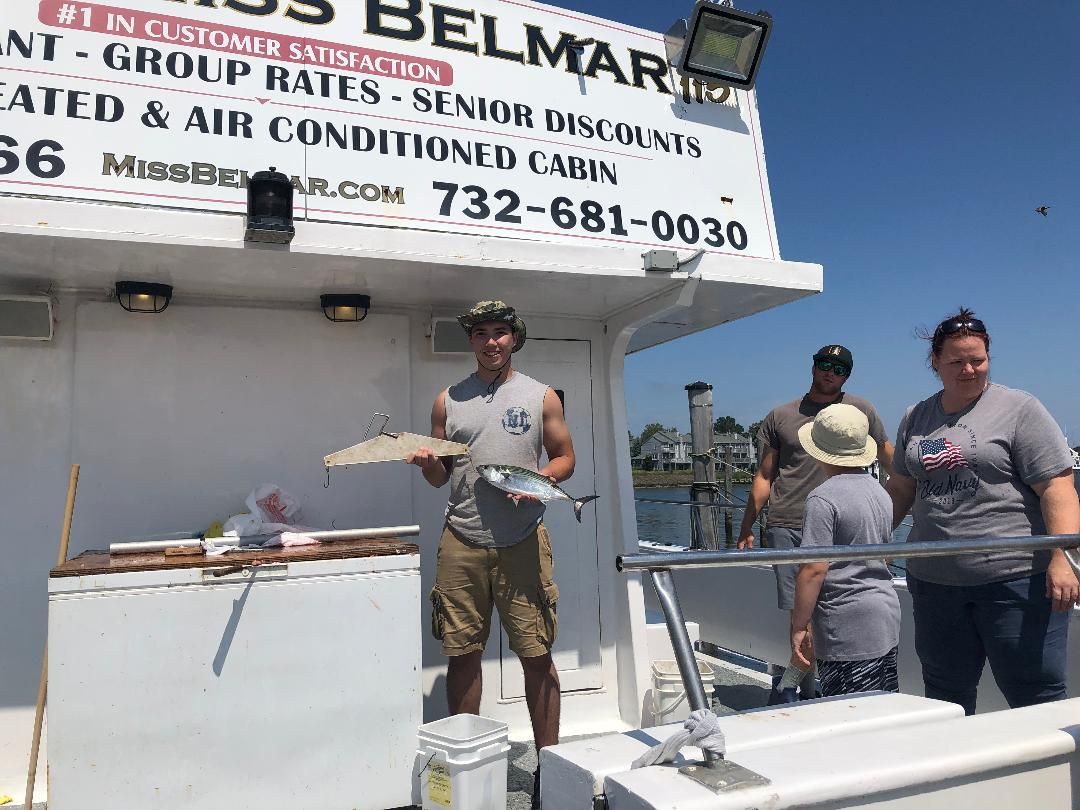 This morning's pool winner on the Royal Miss Belmar Dan Patterson.