08-23-2019, 05:51 PM
Site Sponsor

Join Date: Oct 2008

Location: Belmar, NJ

Posts: 3,569
Miss Belmar - EXCELLENT FISHING AGAIN TODAY!
---
MISS BELMAR PRINCESS

Yesterday afternoon, we once again looked over a pretty wide area. Unfortunately, we had terrible conditions and we were only able to catch a few keeper fluke and sea bass. We did catch a surprise ribbonfish as well! Overall, it was a slow afternoon of fishing.

This morning, we had a good day despite the weather. It started off very slow with just a few fish being caught. Then around 11:00 a.m., fish started breaking on top and we had excellent blue fishing the last half of the day jigging with ava 27's. There were plenty of fish on top with great readings along the bottom.

ROYAL MISS BELMAR

This morning, we fished north east of our inlet and picked away at sea bass. We were drifting too fast so we anchored up and caught fish very good for a couple of hours. Some were catching double headers of sea bass with some fluke, blues and mackerel in the mix. It was a great day of fishing. Our pool winner was John Nolan from Chesterfield, NJ with a 4 lb fluke! We would like to thank VIW Erectors, Inc. for joining us today. We had fun fishing with you today and look forward to seeing you all again next year!

With all of this heat and humidity, both the Miss Belmar Princess and the Royal Miss Belmar have fully air conditioned cabins if you want to stay cool in this summer heat!

The Miss Belmar Princess is sailing daily for blues, bonito and mackerel from 7:30 a.m. – 2:30 p.m. and every afternoon from 4:30 p.m. – 8:30 p.m. for fluke, sea bass and ling. The Royal Miss Belmar is sailing daily from 7:30 a.m. – 12:00 p.m. for fluke, sea bass and ling.

The Miss Belmar Princess is the largest, fastest and cleanest fishing boat in Belmar. With Miss Belmar's 3 engines and a total of 2,100 horsepower, she is the first boat to the fishing grounds every day and we guarantee it. No other boat comes close. Try us and you'll see why.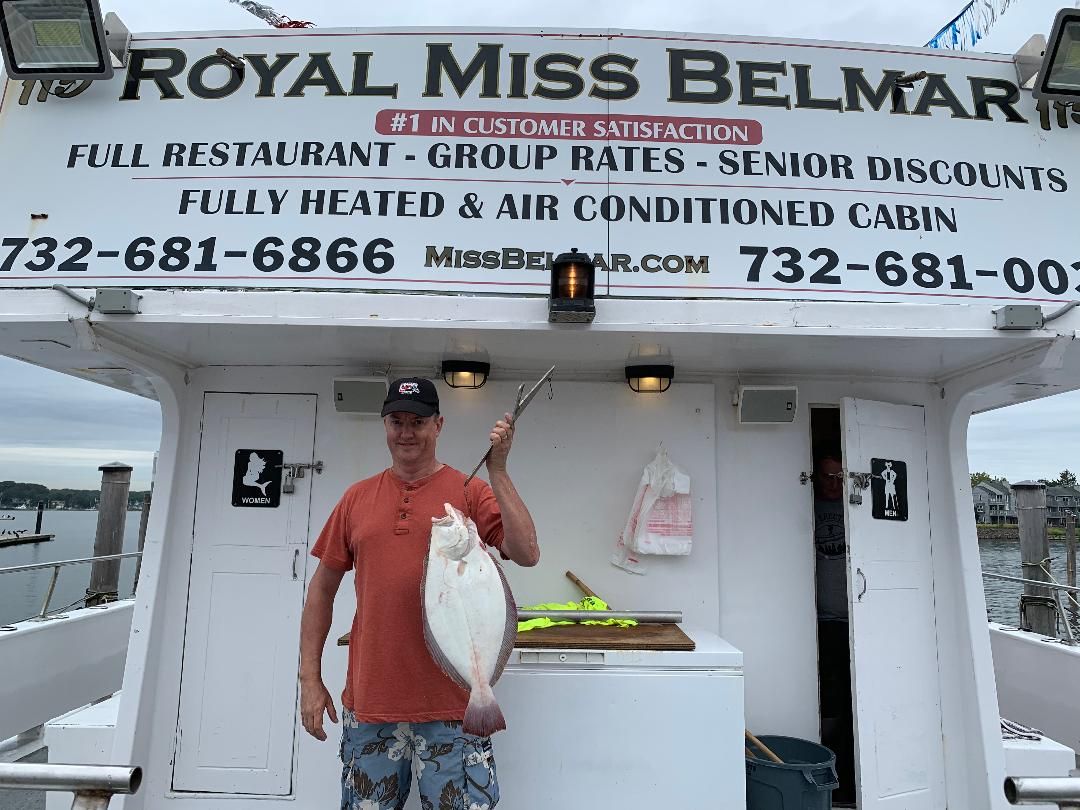 This morning's pool winner on the Royal Miss Belmar John Nolan.
This morning's pool winner on the Miss Belmar Princess.