05-17-2019, 03:22 PM
Site Sponsor

Join Date: Oct 2008

Location: Belmar, NJ

Posts: 3,307
Miss Belmar - EXCELLENT FISHING TODAY!
---
Today, we went south of our inlet in search of the blues. We got a couple of fish and then waited for the outgoing tide, but it didnít help. We then looked up the beach towards the north. We found plenty of bunkers, but there were no fish in them. We opted to finish up the day sea bass fishing and had great results. Mostly limits around the boat with action all day. Our pool winner was Bruce Bates from Philadelphia, PA.

Sailing daily for stripers and blues from 7:30 a.m. - 2:30 p.m.

Sea bass season has opened and we will be sailing every Friday, Saturday & Sunday afternoon for sea bass from 4:30 p.m. Ė 8:30 p.m., and then also for fluke when the season opens for them next Friday, May 24th! You can make a reservation on our website, www.missbelmar.com, or by calling the office at (732) 681-0030.

The Miss Belmar Princess is the largest, fastest and cleanest fishing boat in Belmar. With Miss Belmar's 3 engines and a total of 2,100 horsepower, she is the first boat to the fishing grounds every day and we guarantee it. No other boat comes close. Try us and you'll see why.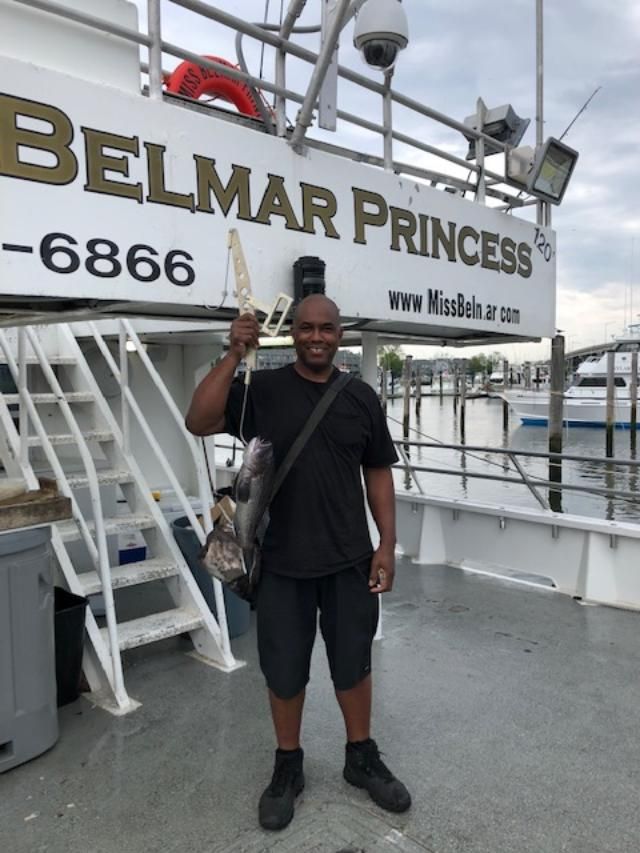 Pool winner Bruce Bates.