06-14-2018, 02:09 PM
Site Sponsor

Join Date: Oct 2008

Location: Belmar, NJ

Posts: 3,284
Miss Belmar - THURSDAY'S REPORT
---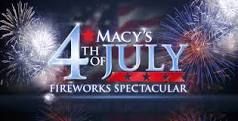 It wouldn't be the Fourth of July without the annual Macy's fireworks show! A pyrotechnic anthem for the ages will ignite New York City's famed skyline on Wednesday, July 4th, as the 41st Annual Macy's 4th of July Fireworks launch an unrivaled barrage of color, shape, light and sound to celebrate Independence Day. The nation's largest pyrotechnic display will come to life over the East River and the celebration can all be seen on the Miss Belmar Princess with more than 60,000 effects rumbling toward the grand finale! For more information, or to purchase tickets, please call (732) 681-0030 or (732) 681-6866.



Watch

this

video on YouTube to see for yourself!
June 14th, 2018

We searched for the blues this morning but couldn't find any. We switched gears and went for the sea bass, instead. We had steady action and caught some nice keepers. It was a really beautiful day on the ocean!

***We did not sail yesterday afternoon or today from 4:30-8:30 p.m. but will resume our normal schedule tomorrow.***

Sailing daily for stripers and blues from 7:30 a.m. – 2:30 p.m. & every afternoon for fluke and sea bass from 4:30 p.m. – 8:30 p.m.

The Miss Belmar Princess is the largest, fastest and cleanest fishing boat in Belmar. With Miss Belmar's 3 engines and a total of 2,100 horsepower, she is the first boat to the fishing grounds every day and we guarantee it. No other boat comes close. Try us and you'll see why.


---
Last edited by missbelmar; 06-15-2018 at

10:27 AM

..